A spectacular dusky pink dress slowly turns on itself, revealing a low back held together by a vertical bow. Behind it, an X-ray of the gazar silk dress uncovers the secret of its impressing architecture: a corset hidden under the layers of material helps the dress fall perfectly on the wearer. Named "La Tulipe", this silk piece is one of the 100 creations by Cristobal Balenciaga, the Spanish designer and founder of his namesake fashion house, shown at the V&A museum in the designer's first ever UK retrospective, marking the 80th anniversary of the French couture house.
The anti New Look
The Spanish vibes can be felt right from the beginning of the Balenciaga: Shaping Fashion exhibition: ornate mantillas, dramatic flamenco dresses, embroidered chaquetillas jackets typical of toreadors and sober mantels reminiscent of Catholicism all throw back to couturier Cristobal Balenciaga's origins, born in 1895 in the Basque region, who opens his Parisian couture house in 1937. A series of four jet-black dresses is a beautifully arresting sight, as well as a clever showcase of the consecutive (and revolutionary) styles created by the fashion house: the Enveloppe dress and its strategic folds, the Amphore dress and its rounded derrière, the lace Baby Doll dress and the simple shift dress with its straight cut, going against the hourglass shape made popular by Christian Dior's New Look.
Silent ateliers and fear of knock-offs
If the exhibition chooses to focus on the greatest years of Balenciaga – in the the 50's and 60's the designer completely revolutionised the feminine silhouette, paving the way for the sixties trapeze dresses and the eighties deconstruction movement – the history of the fashion house is fully explored, distilling little nuggets of information alors the way. Did you know that André Courrèges was a pattern-cutter for Balenciaga for over 10 years? ("Pure white, unornamented and intensively silent… In a room of fifty people, you could hear the buzzing of a fly" says the future founder of Courrèges about the Balenciaga ateliers, where the atmosphere verged on the ceremonious). That the visionary designer had a second line, Eisa, re-creating less costly versions of his couture designers for the Spanish market? That, afraid of knock-offs, Cristobal Balenciaga refused to present his collections to journalists before they were on sale, forcing international magazines to come back to Paris a month after the presentations just for him (and for Givenchy, who quickly follows suit)? Now you do.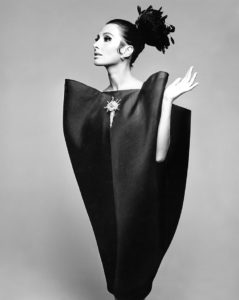 .
.
Balenciaga: Shaping Fashion, from May 27th 2017 to February 18th 2018 at the Victoria and Albert Museum, London
.
.
.