How did you two meet ?
We met in our first year of studies at a Parisian fashion school, nearly eight years ago…
What is the biggest challenge when designing as a duo ?
Working as a duo is more an of advantage than a challenge. We have the conversation and the communication that brings us in the right direction.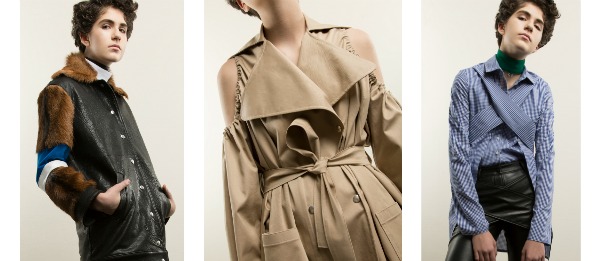 Your muses ?
They can be women or men, the people who are around us, our family, our friends, artists like Kurt Cobain… or Tim Burton and his films on the verge of the dramatic, exploding in colours.
What drew you to Marina Goltsman, star of your latest collection ?
Marina is Victoria's youngest cousin, who at the age of 14 already has a strong personality and brings together all the different extremes. She's a tomboy with a very feminine and sensual look about her. She has a very masculine style, but wears feminine accessories, she plays drums and is a real incarnation of our brand.
I love the piercing details on some of your designs. Where did the idea come from ?
We were inspired by punk, and really wanted to bring this detail in a luxury product and above all make it wearable. The detail is tiny, but it brings that rebellious feel to everyday clothing.
Things aren't always easy for young brands, of which there are more and more of. What's your advice to someone who's starting out ?
Three words : work, work and work.