Marques'Almeida are getting it all right. We all remember the Topshop collaboration, an incredible ripped and frayed denim collection that got the attention of all the major fashion players. Then, there were the catwalk shows during London Fashion Week, increasingly watched by a cult-like club of denim fans. Another stand-out moment was their autumn-winter 15/16 collection presented last March, layering their now signature deconstructed denim with fur inserts and dashes of brocade. Now, to top it all, the duo received the prestigious LVMH Grand Prix for this 8th collection, delivered by a jury of top fashion players (Raf Simons, Phoebe Philo, Nicolas Ghesquière, Karl Lagerfeld – the whole lot!) last Friday.
"We've always focused our research around teenagers and what we call the 'youth code' of dressing since we started the brand", recall Marta Marques and Paulo Almeida, the two London-based founders, who are both originally from Portugal, talking about their hit Topshop collection last year. "We went back and digged deep into those archives, finding old editions of i-D and The Face, Corinne Day and Kate Moss shoots." In the current spirit of newfound love for the nineties, the design duo, who were sponsored by the influent fashion program NewGen, tap on all the right references. In addition to the ever desirable reworked-denim pieces, brocade is, rather surprisingly, thrown into the mix. And boy does it work  : tied at the waist, thrown over one shoulder, slouching over a model's tiny frame, the Marques'Almeida pieces are sure to be a cool-girl favorite.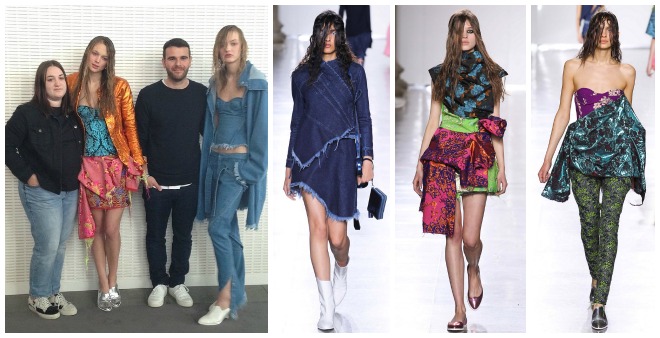 Marta Marques and Paulo Almeida with two of their autumn/winter 15 silhouettes at the LVMH Prize; Marques'Almeida AW15.
All jewel hues and constrasting volumes, we at Please think the M'A silhouette is one of the strongest of the season… and the LVMH jury obviously agrees. "This collection shows a new beginning for us in terms of introducing new fabrications and techniques," says Marta Marques of their autumn/winter collection, "working around the idea of a very cool and young product, hopefully keeping that same rebellious attitude which charecterizes what we do". With a 300 000 euro dotation and a year of LVMH mentorship, there's no stopping them now…
Fleur Burlet