How did you first think of mixing food and jewellery?
Food is our inevitable daily energy source, and a pleasure. Food is also an essential substance for emotions, a powerful social intermediary, and a cultural mirror. It nourishes our eyes, thoughts and feelings, as well as evoking memories and stirring associations. We thought, why can't cuisine items be seen as fancy and elegant wardrobe accessories, a shared pleasure for one's eyes and necks?
 What different design techniques do you use?
Handcrafting an object, that would look like real and make your mouth water, is our major jewellery design goal. To reach it, we play with contrasts by merging the traditional with the modern, the simple with the sophisticated. The unique (in)edible design concept and the memorable contrasts – ceramics versus precious metals, familiar object shapes versus sophisticated architectural packaging – have become our distinctive brand signature.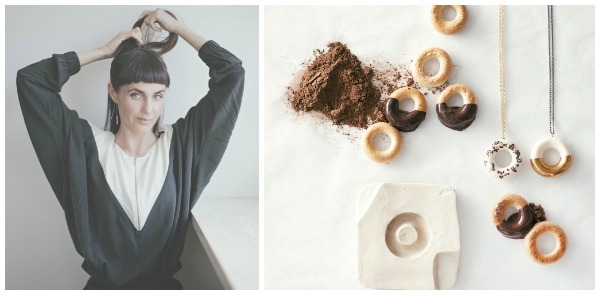 Deimante Litvinaite, founder of TADAM! Design, and some of her creations
And the designs smell yummy as well?
Each jewellery item is locked inside a dessert-scented gift box, also designed by TADAM! Design. The ceramic pendant absorbs the "delicious" fragrance of the packaging, which the "dessert" owner can smell for quite a long time when wearing the jewelry, especially if it's being kept in the scented box.
Vanilla, blueberry, matcha… so many flavours and colours! Which of the doughnuts on the menu can you not get enough of?
The Milky Doughnut with Poppy Seeds and Gold Glaze as well as the Milky Doughnut with Poppy Seeds and Platinum Glaze have been the most popular Doughnut models. Also, the Dark Chocolate with Gold Glaze has got a lot of fans as well. And naturally they attract lots of attention and a desire to touch them.

Three pieces by TADAM! Design