Let's fly across the Mediterranean for a moment – all the way to Athens, Greece, at the foot of the Acropolis, stands jewelry brand Zolotas's first ever store. Founded in 1895 by Efthimios Zolotas, a craftsman who honed his trade at the Place Vendôme, Zolotas, now in the hands of artistic director Georges Papalexis, creates intricately Antique jewelry, reminiscent of Greek mythology and imagery, all made in the purest of gold. The brand was a triumph, worn by some of the classiest women around. In honor of the brand's first store in Paris, here are our favourite Zolotas fans…
Jackie Kennedy-Onassis : the epitome of sixties elegance. During her second marriage to Greek bilionnaire Aristote Onassis, Jackie O is spotted accessorising her pastel wardrobe with chunky Antique-style precious jewelry, including the amazing studded belt on the picture. In honor of her new love and new home?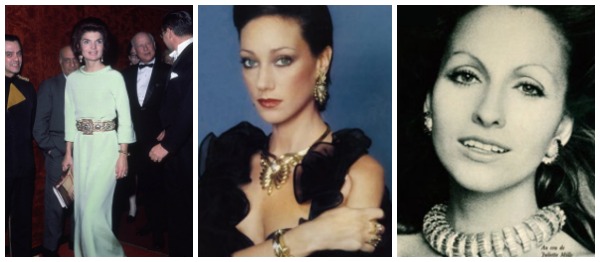 Jackie Kennedy-Onassis, Marisa Berenson and Nana Mouskouri, all wearing Zolotas jewelry.
Marisa Berenson : the American model and actress with one of fashion's sultriest faces (those incredible cat eyes!) is the perfect ambassador for Zolotas's bold creations. Tanned skin + dark clothes + heavily made-up eyes + stand-out gold jewelry = the perfect seventies combo.
Liz Taylor : we know of Liz's love for jewels – remember that 68-carat diamond ex-husband Richard Burton got her? #goals – and ability to pile them all up. However, these simple gold designs by Zolotas particular suit the American actress in her later years. Discreetly elegant, but still statements in themselves. Eternal pieces for an eternal star.