What is the concept behind JOUR/NÉ?
Monday morning meeting, Friday evening drinks or Sunday afternoon brunch… All these occasions inspired us to create with JOUR/NÉ the ultimate everyday wardrobe. Our collections are an ode to urban, active, fiercely modern women, who are looking for outfits that are both practical and aesthetically pleasing. Our ambition is to create for them each season the perfect wardrobe for everyday use, both simple and creative.
JOUR/NÉ has three founders; what role does each of you have in the company?
We are all 24 years old. Lou is the stylist, trained at the Studio Berçot; at the moment she works at both Marc Jacobs and JOUR/NÉ. Lea is the product manager, after stints at Givenchy and Chanel. Jerry, from Mod'Art International, takes care of the commercial side, having also worked for Nike, APC and Valentino. But the strength of JOUR/NÉ lies in the fact that all three founders complete themselves in their work, and communicate at every creative step.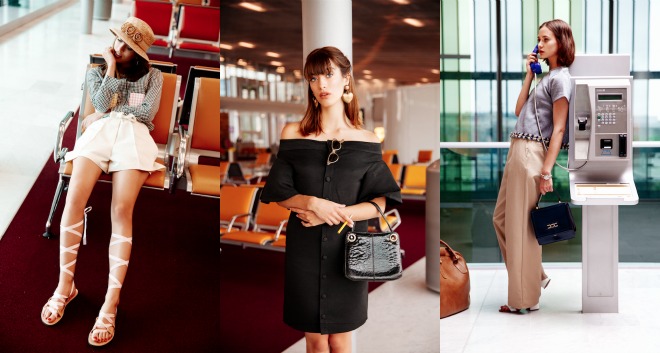 What inspires you?
Each season we like to tell a story. "Le Lundi au soleil" (A Monday in the Sun), "Over the rainbow", "Terminal 2E"… Our first source of inspiration is truly our own wishes : we simply think of what we'd like to wear in terms of colors, cuts, material, and the rest comes naturally…
Invisible zips, a integrated cloth to wipe glasses… Do you create "smart" clothes?
We try to create a wardrobe for everyday use which tells a story each season in relation to our inspirations and to what we want to wear. But we are also extra thoughtful of the comfort of these clothes that we will be wearing all day, so we think of pockets, invisible zips…. and also cuts and fabrics.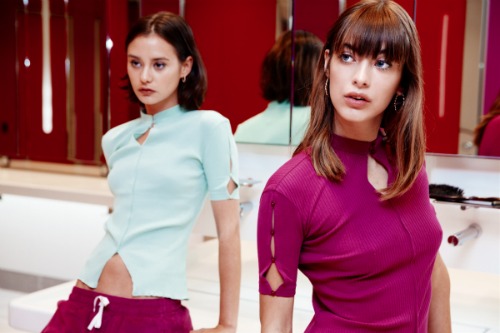 Tell us about your latest collection. Why choose an airport as a backdrop?
We find inspiration everywhere, walking in the street, taking the tube and even travelling, hence the idea of an airport. We were lucky to be able to shoot our lookbook at the Terminal 2E of the Charles de Gaulle : airports are the reunion of all the women who travel and who we love to watch: the business woman who is flying to New York, the mother going on holiday with her children or the girl meeting up with her lover! All these women are different and inspire us.
Your creations are kind of playful, and the tone of the brand is quite upbeat. Is humour an important factor for you?
People often say that we are "serious without taking ourselves seriously." It's true that we like using models that feel good about themselves and smile, bright colours…. All this gives JOUR/NÉ its fun and lively aesthetic.