The spirit of Sarah's Bag in three adjectives?
Handworked, exuberant and unique.
We loved the Retail Therapy" collection and its tongue-in-cheek play on our reliance on medicine… How did the collection come together?
For me there are few creative limits with handbag designs; bags are standout pieces that can enliven, vamp up or completely turn around an outfit. The idea behind this collection was to parody over-the-counter and prescription medications and our "crazy busy" modern lives that have mainstreamed an attitude of a pill for every occasion. We played on the fact that we all recognize their packages and branding colours and it was a chance for us to explore new shapes and experiment with new materials, such as Perspex and resin for our minimalist Chill Pill clutches.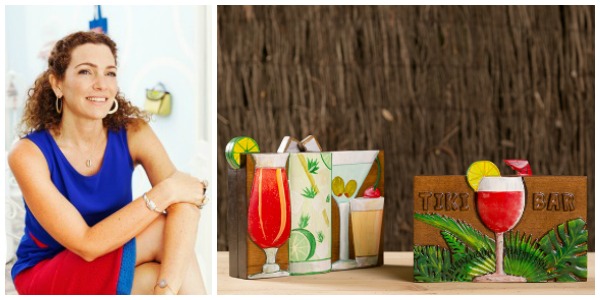 Sarah Beydoun, founder of Sarah's Bag / Two designs from the Tiki Temptation collection
Your designs are very out there, quite the statement pieces. In terms of personal style, do you believe "more is more"? 
Not all the time; I like my handbag and accessories and shoes to be the "more" part of my look. While I do enjoy wearing clothes that are simple and well cut, there always has to be something to them, an unusual cut or drape, a luxurious fabric, or interesting colours.
What different techniques do you use for your bags?
We are known for reviving traditional crafts and our meticulous handwork in techniques like beading, sequinning, embroidery and crocheting. In the past three collections we also started working with wood: carved wood, wood with pearl inlay and wood marquetry, an intricate technique of arranging tiny pieces of veneer to form geometric patterns. One of our most popular bags, the Dama bag, is a wooden box clutch that mimics traditional backgammon boards which are made using wood marquetry.
You describe yourself as a "fashion house and social enterprise," working to "empower underprivileged women" in Beirut. Can you tell me more about this social aspect to Sarah's Bag?
Sarah's Bag was initially founded in 2000 when I was doing field research for my Masters thesis at an NGO that helps rehabilitate ex-prisoners and women at risk in Lebanon. It's an experience that changed me; interviewing them and hearing their stories about broken families, abuse and poverty. It's something one cannot just walk away from and forget. It inspired me to start a business that would employ and empower underprivileged women like the ones I met.
So I launched Sarah's Bag and we initially started training female prisoners. Some of them continued to work with us after finishing their sentences, and some even used the money they earned working with us to hire lawyers and overturn wrongful convictions. Once they finished their sentences and returned to their homes and their families, we encouraged them to train other women in their communities to work with us. In this way they become team leaders, independent women and respected members of their communities who provide much-needed jobs. Today we work with over 200 women in towns and villages across Lebanon, all of whom are artisans in their own right.