Can you tell us more about yourself?
I was born in Singapore, but am now Melbourne-based. I studied Visual Arts before completing a Bachelor of Design in Fashion at RMIT University, then quickly established my previous label TV after university in 2006 with a friend. I took a break from this in 2010 and worked for Brisbane label Easton Pearson before establishing Verner in 2012. I sometimes work sessionally at RMIT mentoring student's through their design process.
The Verner woman in three words?
Adaptable, flippant and thoughtful.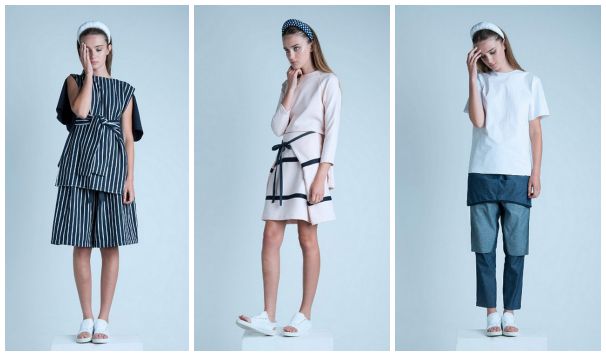 Verner SS15, "Eat Cake"
How do you put a collection together?
I start with concept and move quickly to the textiles and prints before working these into groups. Print have often been a focal starting point and something I enjoy working on… I then tend to over-compensate before editing back! I never design in bodies or put looks together until the day of the shoot.
It's quite rare to come across designers with such radical starting points – cultural appropriation, racism, the relationship to one's country… Do you see yourself as a political designer?
No definitely not, I'm just interested in authenticity.
Your collections focus on the silhouette, with different plays on volume. Why such an interest?
I think this came about as reaction to feeling too print-focused.
What's your view on the Australian fashion scene?
It's difficult to survive here as a young or small brand.  You get a lot of small pond mentality.