In need of a little sunshine? We though so! When we approached accessories designer Shourouk Rhaiem to take part of our Travel in Style series, the Tunisian-born beauty was prompt to accept – and even sent us her own holiday pictures! Giving us major travel envy… We'll just have to enjoy it "virtually"! A hidden restaurant in the Medina, cocktails with a view on the ocean and the perfect oasis getaway – we're ready to discover Tunis with Shourouk!
Coffee: a cup of Turkish coffee at the Mrabet is the best way to start the day in the Medina. It's the first coffee in Tunisia, from the Ottoman era. I love that place, the amazing traditional decoration makes me feel like "an odalisque waiting for my sultan". 27 Souk El Trouk El Kasba, la Medina
Lunch: if you want to try some traditional Tunisian food, Fondouk el Attarine is the best place ever! Discover a perfectly restored caravanserail turned into a charming restaurant. A little paradise of calm in the heart of the crazy Medina with a delicious meal. A gourmet must-stop for me! 9bis Souk El Attarine, la Medina
Shopping: "Make a wish and your dream will come true," Wish La Marsa. This boutique is the perfect place for a princess outfit to party all night long! 16 avenue Taieb Mhiri, la Marsa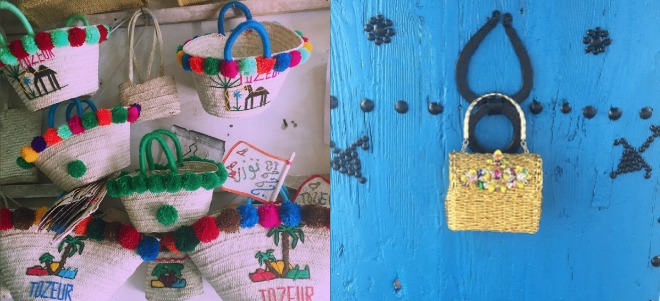 Drinks: the new post-revolution "place to be" is TUTU in La Goulette. A chic underground atmosphere with yummy cocktails to end the day. Take the hotel elevator to the 6th floor and get a wonderful view of the ocean. 2 avenue de la République, la Goulette
Souvenirs: personally I can't leave the city without buying any hand-embroidered "coffa" baskets. I love them, they are the perfect souvenir gift and I have tonnes of them at home!
Discover: dressed in white and blue, you absolutely can't leave the picturesque Sidi Bou streets without tasting some "Bambalouni" (Tunisian doughnuts) after a delicious mint tea at Café de Natt.
Escape: to disconnect, my favourite oasis is Villa Dar Zargouni at Naftah (South of Tunisia). Just relax and enjoy an unforgettable palm tree sunset. Route Sahara Palace 2240 Nefta