What led you to create your vintage boutique? 
I've loved vintage from a very early age, since my early teens and back then vintage wasn't such a done thing.  I went to art school and when I finished my honors year I thought it would be a great idea to earn a living while I pursued video art.  Things didn't turn out like I expected and I opened my eBay store on the side while I had a full time job as an assistant video editor.  It was just a side project but we found a lot of demand for it and were selling to designers for inspiration.  As time went on I got more ambitious and started buying crazier and rarer pieces.  Then I lost my job a few months back and decided to take it as an opportunity to make something really amazing and launch my own proper store.  So far I've been really surprised at how well it has gone, we've received some really great feedback and I hope we can make an impact on the Australian fashion landscape.  Australians have a tendency to be quite critical about the fashion scene here but I think we are more sophisticated than we give ourselves credit for.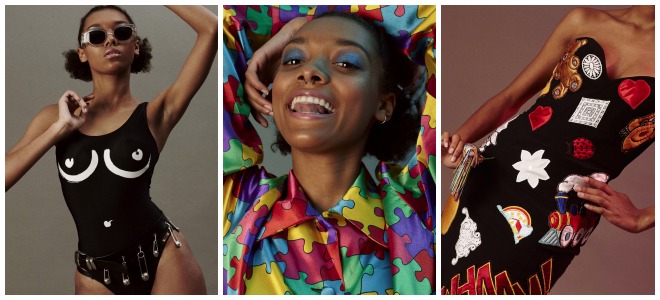 All clothes, vintage via irvrsbl.com
How do you curate the content of your e-shop? Are there particular designers you're on the hunt for?
I don't think about it too consciously, I mainly see things I like and buy them.  There are some things that are hot sellers that I keep an eye out for.  For instance, the Fendi Zucca print; for some reason people are going nuts for it right now.  I've had around 3 or 4 pairs of the same Fendi jeans stocked and they always sell so quickly, so I've always got my eyes peeled for those.  Vintage Chanel does really well too, we haven't had much of it but it always sells fast; '95 and '96 were great years, and I've bought quite a few Chanel items in the last few days.  Right now I'm crazy for Jean Paul Gaultier and Junior Gaultier pieces, I've got lots of those coming soon.  If it's a funny piece or something really unusual and novel it's always an automatic yes from me too, no matter what the label is.  I always love Gianni Versace too.  His best pieces are truly masterful.
Vintage hunting is usually such a sensory experience, touching the garments, digging through the clothes racks… Why choose to launch an online shop?
We try and counteract the fact that people can't come up close and touch the garments by going the extra mile and giving as much detail as we can about the items.  For instance, we try and describe the condition of the garments quite thoroughly, and also give very detailed close up photos of the fabric and imperfections. In some ways it can be quite a challenge selling vintage online, because certain things that may look great in person don't photograph well; for instance fabrics with small checks and tiny prints never seem to look as great in photos as they do in real life.  But online suits us for quite a few reasons.  The first one being the vintage we sell is really niche.  Being in Australia I don't know if the market is quite there for a lot of our items.  Selling online we can reach people from all corners of the globe; right now around 80% of our business is from abroad.  From a business perspective, there are fewer upfront costs such as rent which allows us to be more competitive.  Personally I've always preferred working odd hours and into the night, so it suits me as well.  And as well as that our skills lie in doing all the online stuff such as product photography and web design, whereas I wouldn't know the first thing about opening a retail shop!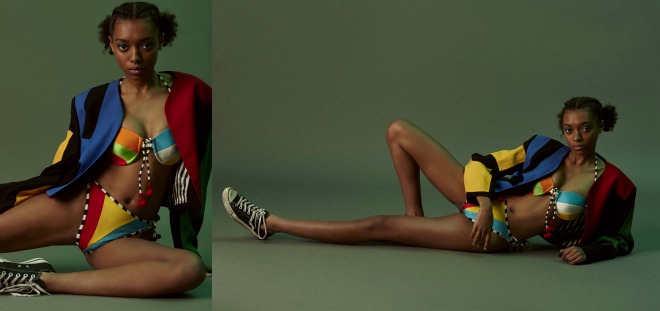 All clothes, vintage via irvrsbl.com
Where do you find your best pieces?
Europe! Always.
A favourite amongst the pieces you've found? 
My current favourite is a Junior Gaultier jumpsuit, which is looks like a gigantic pair of pants.  The pants actually come all the way under the armpits and has a really long zipper.  I haven't put it online yet, but it's by far one of the most interesting pieces I've come across.  I also love one of our Moschino Couture dresses.  It's from the "Cruise Me Baby" collection and looks like a life jacket on the top; it actually has a working whistle, and there's a light too with a power outlet, but I don't have the electrical know-how to figure out if it works though!