Shop at Apriati : my favourite jewellery shop in Athens. My wrists are covered with their bracelets. Their jewels are small and elegant. 3 Stadiou street , Syntagma square
Explore Plaka, Monastraki and the Acropolis : as a person who hasn't grown up in Athens — I was born in Athens, but was brought up in Switzerland – I am in love with the Acropolis and the walk down to Plaka and Monastiraki. I love going for walks in the spring when the tourists have not arrived yet. I find it magical and full of history which makes it amazing. You will find beautiful old houses, little shops with lots of things to buy for your home, little cafes where Greek people are drinking the national favourite drink, Frapé (strong iced coffee), cute little taverns and lots of cats and dogs.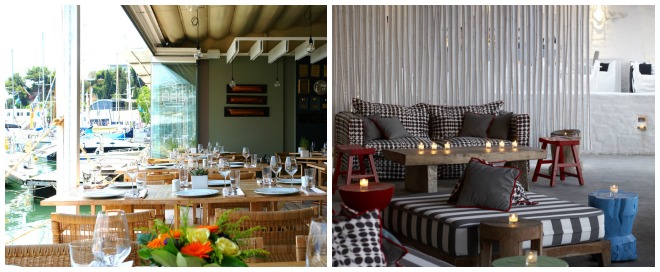 Varoulko Seaside restaurant and The Island Club, both in Athens
Eat at Varoulko Seaside : This restaurant is located in Mikrolimano, near Pireas. I love the area, it's full of little tavernas where you can eat nice fresh fish. I would say the best is Varoulko and is a must-go-to when in Athens! Akti Koumoundourou 52, Mikrolimano
Discover Cape Sounion : I recommend the ride to Sounio, the Temple of the God Poseidon, because the sea is always beautiful in Greece and because Sounio is another great historical place which I feel connected with. A must-see if you're in Athens!
Party at The Island Club : I love the location of this bar/club/restaurant. It's on a cliff, overlooking the Athens Riviera. It's got nice cocktails and music. You can go there after the beach to have an aperitif or after dinner to dance through the night. Sounio Av, Varkiza