How did you start Breakfast Club Paris?
I worked for over seven years for a electronic music label, Ed Banger Records. It was an incredible experience, I met lots of wonderful people with strong personalities who opened my mind, got me interested then involved in their projects, trusted me to direct them… But I think I wanted to create something by myself, manage my own project, get it started myself and develop it with my ideas. So when I left the company to be freelance, I kept that thought in mind. It blossomed, it took some time, but Breakfast Club Paris was born nearly two months ago and I am super happy!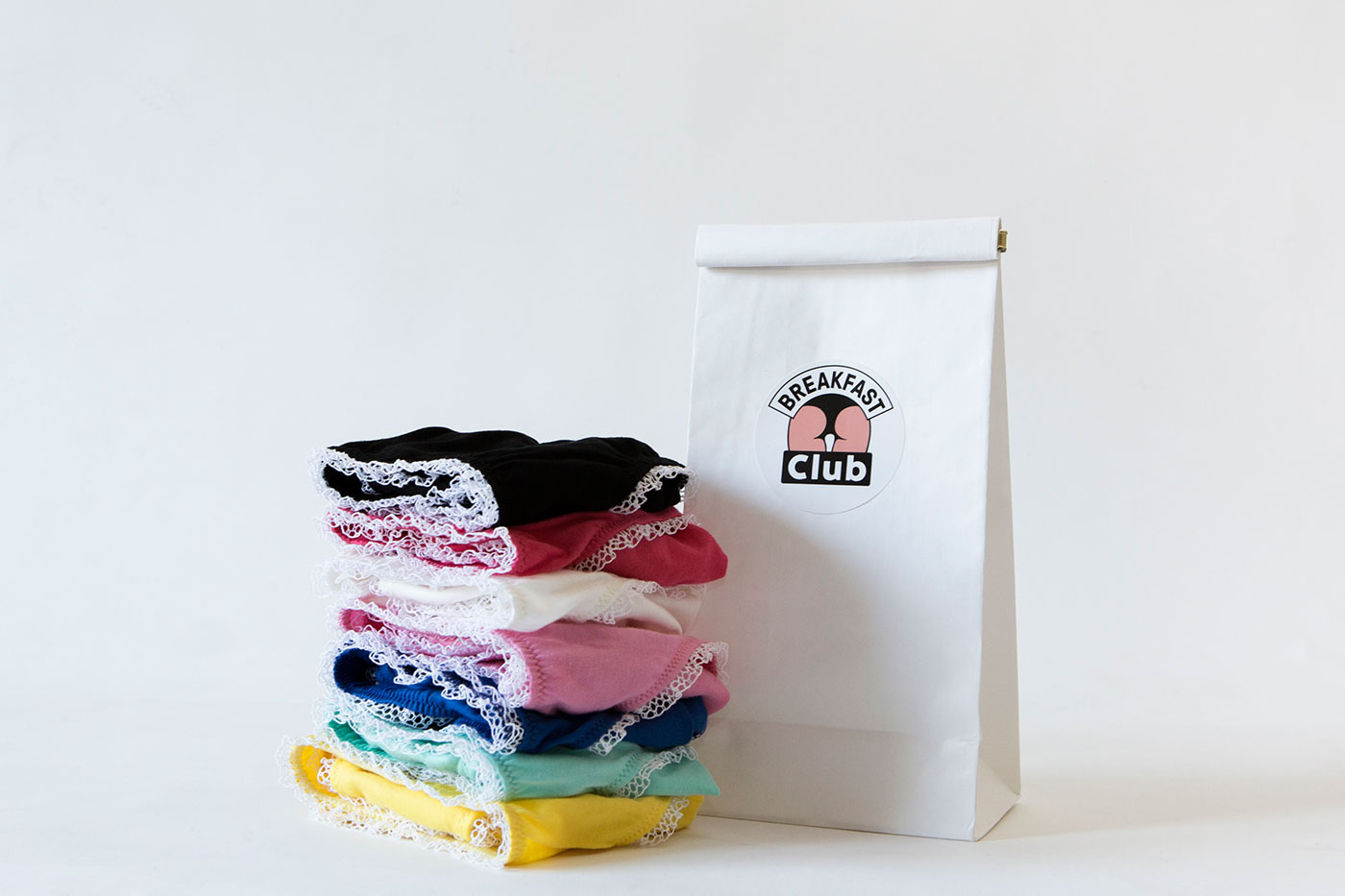 Where does the name come from?
It's a clear reference to the cult film from the eighties by the same name, The Breakfast Club (1985), a classic from my generation! The art direction is amazing, the music, the characters… and there is a funny scene involving underwear (when Judd Nelson's characters looks at Molly Ringwald's panties from under the desk). That's where it all came from, with a more literal parallel : I imagined panties to be the ideal outfit for breakfast. During the week, when you get out of the shower, you slip on a pair, you drink your coffee wearing not much else and wait for the last moment to put the rest of your outfit on. At the weekend, it is THE greatest thing to wear in bed. They are super comfortable as they are 100% cotton, as well as sexy, with a magical design that fits all booty shapes! 
The panties are made of 100% organic cotton. Do you think a lot of people opt for organic products when it comes to clothes?
No, I don't think so, organic is complicated… You can't produce a lot of it so it doesn't work with fast fashion, and on bigger pieces it would be too expensive. But we are more and more informed of the origins of things, including how our clothes are made. It awakens people to the cause, and they progressively change their habits as consumers. It works quite well with underwear, as it's quite a small piece of fabric! And panties are the item of clothing that are the most intimate, we want to take good care of them. Cotton is a good choice, it's soft, it's natural, and if it's organic, it has grown without pesticides and was harvested in an ethical way. I think that when you buy a pair of Breakfast Club panties, you adopt all these values.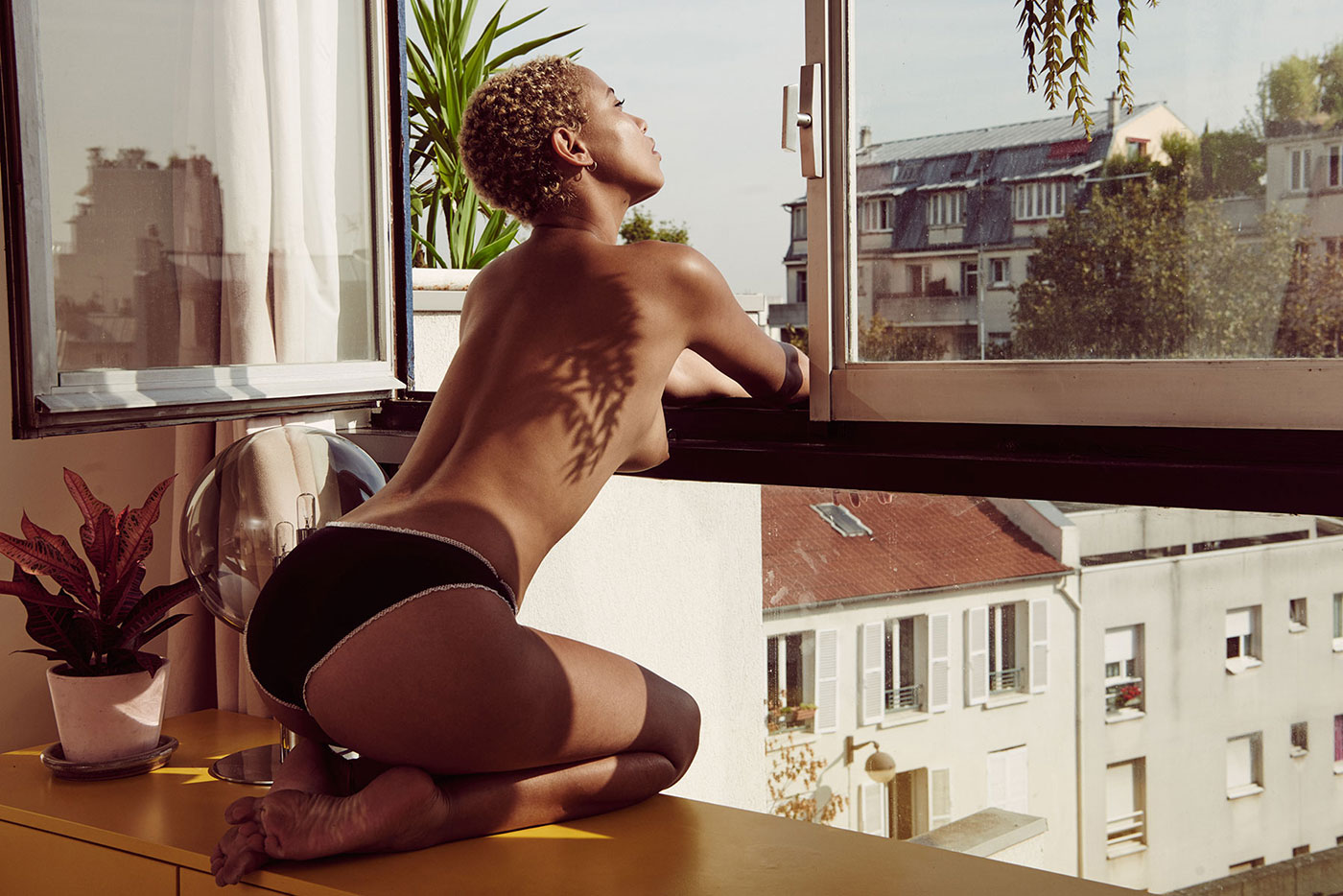 At the core of your project is a the feminine body and its liberation. Is that a subject you are passionate about? 
Of course! I like the idea that my underwear leads women who wear it to feel good in their own skin. Be it with themselves, with their husband, their wife, their one night stand… It's crazy how such a tiny piece of fabric can give you so much self-confidence! At Breakfast Club Paris, empowerment comes from the bottom up. And I have to say I'm fascinated by the seventies: by its aesthetic of course, with its icons like Bowie, Birkin or Françoise Hardy, but also the hippy mindset of the time, that is having a comeback today with movements such as #nobra or #freethenipple. I put a bit of all this in the DNA of my brand.
https://www.instagram.com/p/BL8CRvFDDNY/
You've been in the music industry, worked in production, events… and now underwear! A new chapter ?
For me, the Breakfast Club experience is like adding another string to my bow. It's my baby, and I'm very happy with it, but I'm not pressuring myself to become a multinational company with shops in NYC or Shanghai. I like the idea of following my own rhythm. Being a small French brand is just fine for me at the moment. I don't know if it's a whole new direction for me, but now it's out, I am responsable for the future of my brand! I challenge myself everyday to make it live, with the ressources of a young independent business…  It's my turn to bring people into my project, I'm thinking of all those artists who give me their vision of underwear by regularly sending in illustrations for my DEWSPAPER : Jean André, Delphine from Été 1981, SO-ME, who created my super logo which I am so proud of. And I can add a great experience to my CV! I know how to set up a brand, develop it in terms of production, distribution – and that is super cool!