Can you tell us a bit more about your background?
My father designs wood furniture, and one of my grandmothers is a seamstress. They have always said to me that working with your hands is the most beautiful thing on earth. They allowed me to dream up my own creative bubble and helped me make it grow and perfect it. After trying out painting, collages, styling outfits for my Barbie dolls, embroidery, film photography… I turned to applied arts and then got into Esmod Paris to focus on fashion design. After a couple of jobs in ready-to-wear and jewelry, I started to feel a little artistically frustrated. I desperately wanted to fly with my own wings, which led me to start my own brand : Chabaux.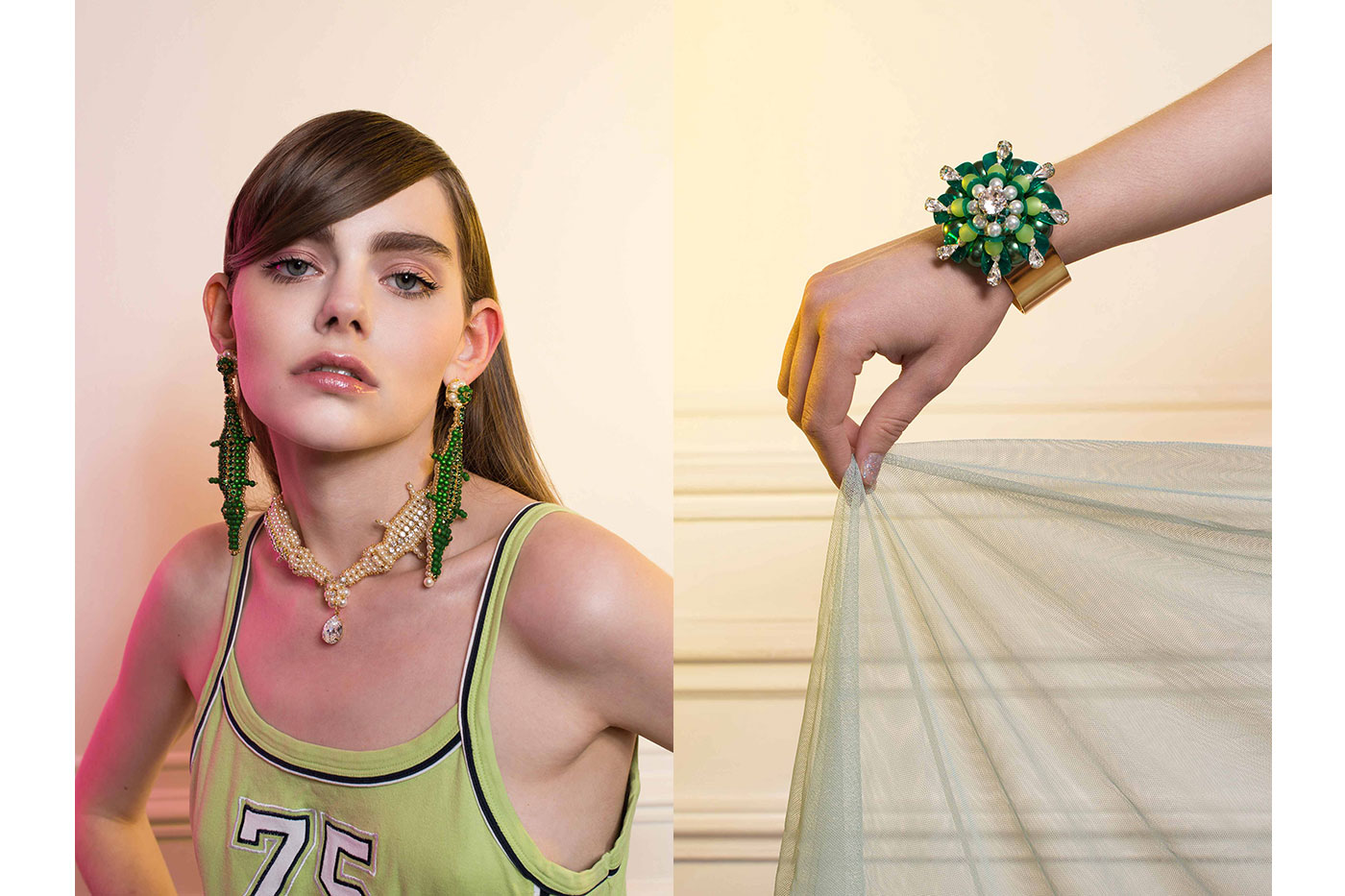 Why choose jewelry?
My love of details and ornamentation led me quite naturally towards jewelry. I have always embroidered things, when I was creating clothes there were embroideries everywhere. So I decided to dedicate myself to it, and I used the "perlage" technique, which is similar to embroidering. What I love the most about creating jewelry is that super instinctive moment when I'm surrounded by pearls, crystals, petals and different materials and I compose with each of them, carefully, to find the best technical way of putting it all together. True technical experimentation, but guided by spontaneity.
Where does the name of your brand come from?
Chabaux was the name of my great-great grandfather, Ernest Chabaux. He was a colorist, he had a paint shop on the Vieux Port in Marseille where he created new colors, including a blue-tinted white called Blanc Chabaux. The name came to me immediately, encompassing both my love of colors and of my family.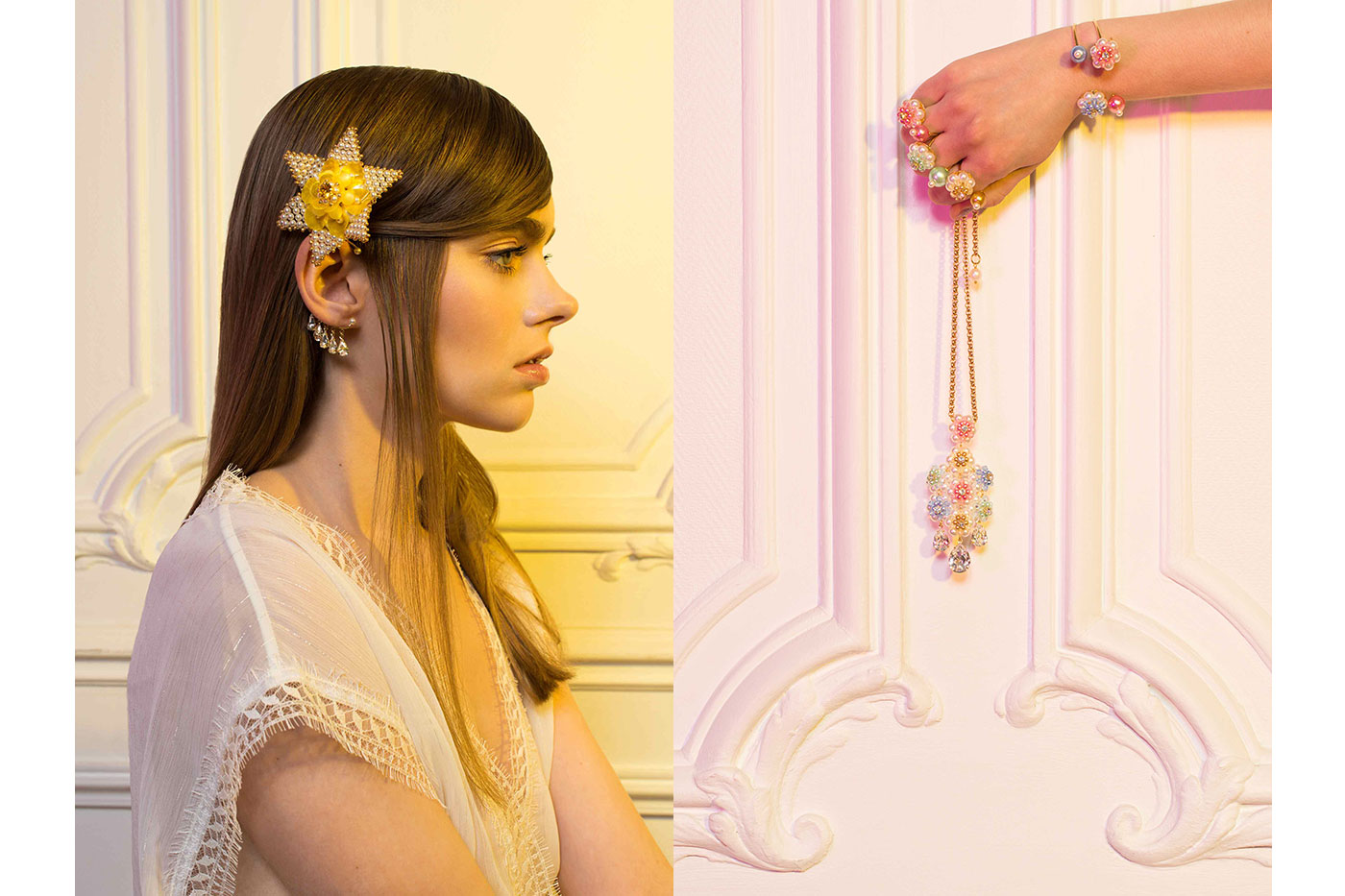 I like the fact that your designs have a nineties feel, but are also unmistakably of our time. When creating, what are you inspired by?
When I create things, I mix and pile different styles one on top of the other. In a completely off-beat way – and never without humour – I play on popular and familiar references. I mix classical ornamental codes with inspiration taken for sub-cultures. My first Chabaux collection, for example, brought together my grandmother's aesthetic codes and space references. For another collection, I mixed visual nods to dekotora, the Japanese art of truck decoration, with traditional Chinese art. The whole idea is the create accidents between the different visual codes. For my latest collection, I got inspired by all my childhood idols: Lizzie McGuire, Paris Hilton, Britney Spears… mixed with my obsession for florals.
Your 3 favourite Instagram accounts?
@mirandamakaroff, @andreagiacopuzzi, @badgyldini
Is there a Chabaux girl?
It's funny because there is no real typical Chabaux girl. A young Japanese girl, kawai and poetic, can fall for the jewelry, as can a more mature woman, a sophisticated gallery owner for example. The brand is for a girl with multiples faces, both femme-enfant and femme fatale, sometimes retro, feminine and dazzling. The world of Chabaux is fun and whimsical, but above all full of optimism.
As a young Parisian designer, do you feel like you a part of a group of creative? What do you think of the current fashion scene?
My friends are part of the local art and fashion circles, so I naturally turned to them for my different projects. The pictures, the words, the art direction for my brand is done by and with those close to me. Each collection is a human and artistic experience. A couple of years ago, designers as well as the rest of society preached the concept of "less is more", then normcore arrived and the whole grubby minimalist thing… I'll admit I was quite scared to see ornementation disappear forever. But in the past couple of seasons ostentation seems to be back in fashion, which is something I'm very happy about, which ultra creative brands such as Grace Wales Bonner, Y/Project, Anne Sofie Madsen, Matty Bovan and more. Long live anything over-the-top!