Have you always had a passion for flowers?
Ever since I was little I loved to pick flowers and make daisy chains… But not to the extent of making a career out of it! It never crossed my mind. Over the years I turned to more "artistic" professions such as modelling or music. But there came a time when I got a bit bored, or at leat felt as though I wanted to do something else, to really create something using my own hands. 

How did you get the idea of combining a coffee shop and a florist? 
I knew from the beginning that I wanted to open a coffee shop, but I wanted a place that was completely unique. Above all I was looking for a concept that didn't already exist in Paris. That's when I discovered that "flower cafés" were a thing, and that a couple already existed abroad. I instantly knew that's what I wanted to open.  
Your favourite flowers?
Peonies, of course…
You trained with Paris coffee roasters Café Coutume before opening your café. How was it? 
I spent a week alongside Steaven Marks, who trained me, and the rest of the Coutume team. During the week we took classes, and of course practised actually making coffe. I learnt all the basics, like the origins of coffee, latte art, and of course the dosage for a good cup of coffee. 
Buying flowers, for oneself or for others, is a highly personal pleasure. You must have witnessed some beautiful moments since opening! 
Every day! Really, it's such a pleasure. A loved-up couple who buy each other flowers every week, a little old lady who lives nearby and comes every Sunday to buy her bouquet… And people who are just passing by, who stop in just for a coffee and think, "Hey, I quite fancy buying myself flowers!" Flowers bring people together. Just like coffee, actually!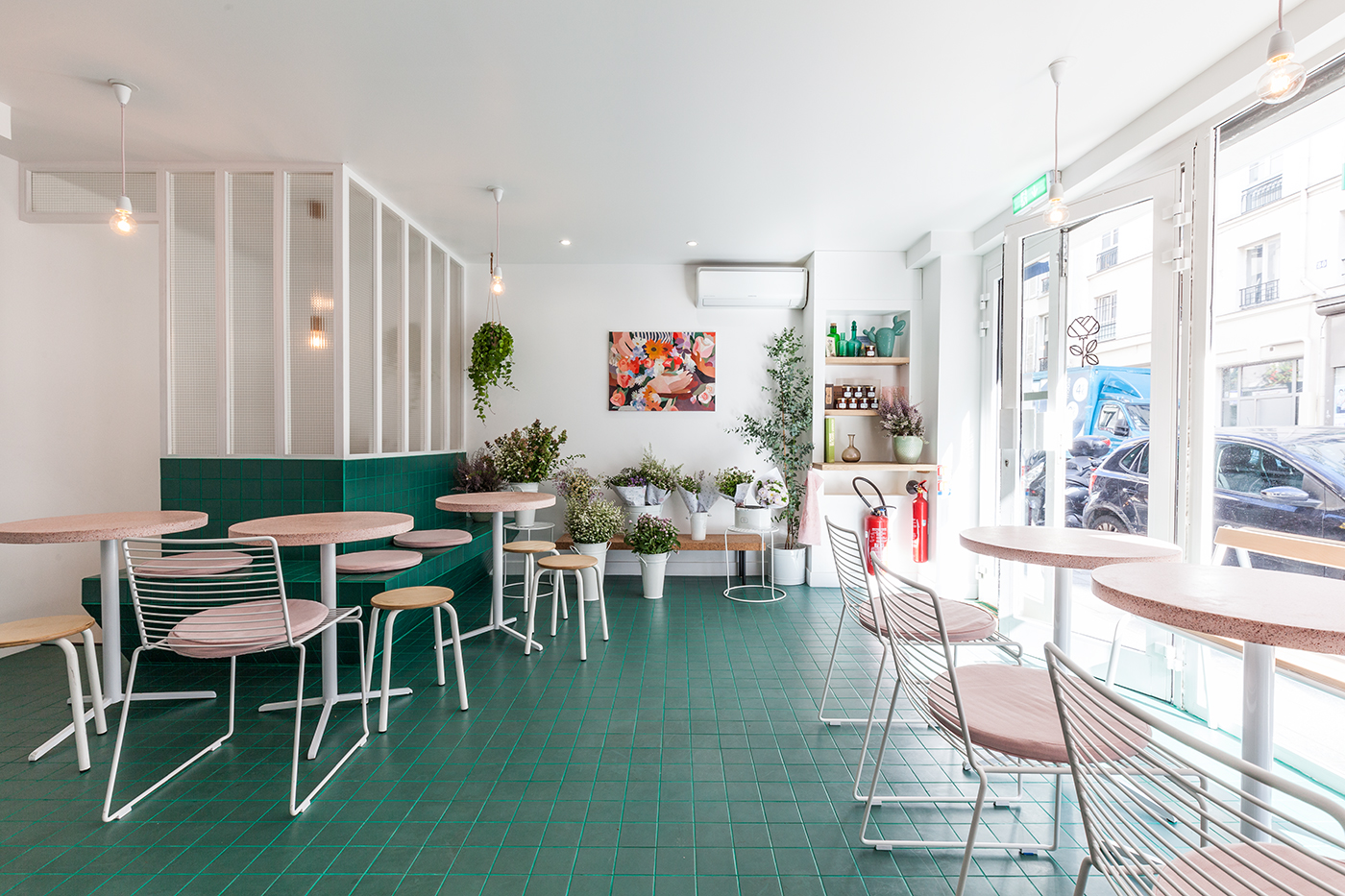 A typical day for you?
I get up at 6am if I'm not going to the Rungis market to buy my flowers, otherwise I wake up at 4am. I get ready, I drive to the shop on my scooter, then I prepare my bouquets for the day. After that I take care of the coffee, I try out different dosages before finding the magic formula, then I open the shop! I am generally there until closing time, at 8pm. I tidy everything up, I come home, hug my cat and my boyfriend, have a quick dinner, and I'm in bed before 10pm. And start all over again the next day! 
It feels as though Paris is having a real moment, with lots of new spots opening gathering genuine interest from Parisians. What do you think? 
I completely agree! More and more young entrepreneurs are giving life to new ideas, opening places with a real concept behind them. There is a real desire to create, to experiment – you can sense it in the Parisian atmosphere. It's super stimulating!